Shirtless Pictures of Nick Lachey and David Charvet
Nick Lachey vs. David Charvet — Which Hot Newlywed Gets Your Shirtless Bracket Vote?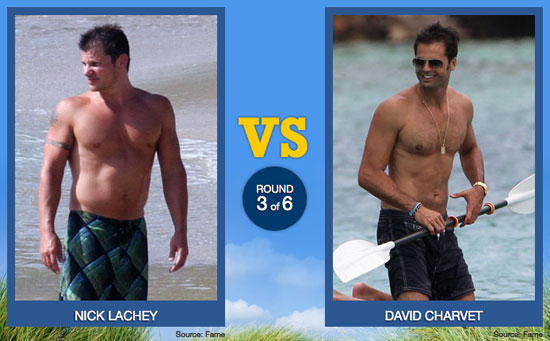 The 2011 shirtless bracket is heating up, and we need your votes to determine this year's winner. We've already crowned Halle Berry as the bikini bracket champ, but which good-looking shirtless guy will join her in the top spot? Hot dads pepper the list of all-star abs with Hugh Jackman, Patrick Dempsey, and Matthew McConaughey going up against bachelors like Shia LaBeouf, Zac Efron, and Justin Bieber. There's a special matchup between Nick Lachey and David Charvet, though, since both guys recently tied the knot. David just wed longtime love Brooke Burke in St. Barts, while Nick had his own Caribbean wedding in July with Vanessa Minnillo. Be sure to place your picks, and in doing so earn a chance to win $1,000 from J.Crew — happy voting!