Shooting at Dark Knight Rises Screening
12 Killed, Dozens Injured at Dark Knight Rises Movie Theater Shooting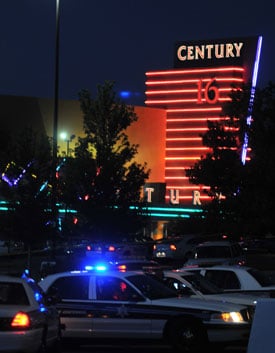 Twelve people were killed and dozens were injured early this morning when a gunman entered a midnight screening of The Dark Knight Rises in Aurora, CO, and opened fire. The suspect, 24-year-old James Holmes, released a gas canister before he began shooting at the audience. Holmes is now in custody.
President Obama has released a statement, stating that he and Michelle are "shocked and saddened by the horrific and tragic shooting." He goes on to say that his administration is "committed to bringing whoever was responsible to justice, ensuring the safety of our people, and caring for those who have been wounded."
Warner Bros. has also released a short statement: "Warner Bros. is deeply saddened to learn about this shocking incident. We extend our sincere sympathies to the families and loved ones of the victims at this tragic time."
The Dark Knight Rises's Paris premiere, which had been scheduled for this evening, has been canceled.