Sienna Doesn't Believe in Monogamy
Sienna Doesn't Believe in Monogamy
Sienna and Jude are looking so in love and totally into each other lately. And now we are able to understand a bit more on how Sienna was able to forgive Jude for cheating on her. Turns out that she doesn't believe in monogamy. People reports: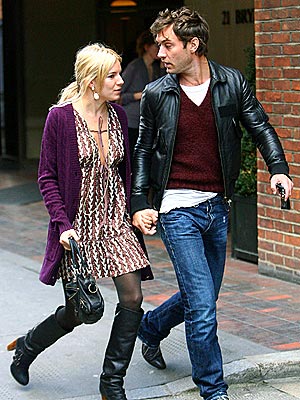 "I don't know, monogamy is a weird thing for me," Miller, who is still seeing Law, tells Rolling Stone in its new issue. "It's an overrated virtue, because, let's face it, we're f–ing animals."

She says she was upset by the scandal – Law admitted he'd cheated with his kids' nanny – because it drew attention away from her acting. "Everything happened in the wrong order," she says. "You become very known for being someone's girlfriend, and all of a sudden there's all this hype and buzz for all the wrong reasons."
So, I am confused...she was upset that he cheated not because he cheated, but because he was upstaging her acting career? That is just too hard for me to believe, or else it's further proof that celebrities are just a little bit different than the rest of us.