Sienna Miller Bikini Pics on A Yacht With Shirtless Jude Law In Ibiza, Spain
Sienna and Jude's Sexy Shirtless and Bikini Yacht PDA!
Sienna and Jude hit the beach in Ibiza this morning and by afternoon they retired to their waiting yacht to bask in the sun. The adorable lovebirds couldn't keep their hands off each other as they shared hugs and kisses on the boat. Jude is off to a great start in our Shirtless Bracket, currently winning in his round one matchup against Andy Roddick — vote now for your chance to win hot Tom Ford sunglasses! Sienna sipped champagne between their PDA on the deck. Their friends were sitting close by, but it looks like Jude and Sienna only have eyes for each other. She looks amazing in her little black bikini, and the tan is doing wonders for Jude during their lengthy vacation — the twosome are front and center in our hottest swimsuit pics of the Summer, though they may just deserve a highlight reel of their own.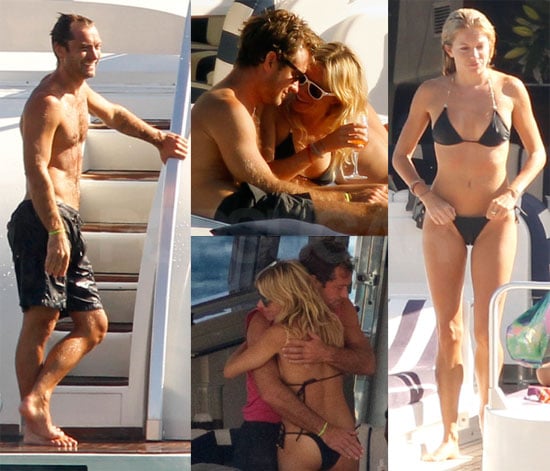 To see more of Jude and Sienna being oh-so-cute, just
.