Sienna Premieres While Diddy Grabs the Memory Card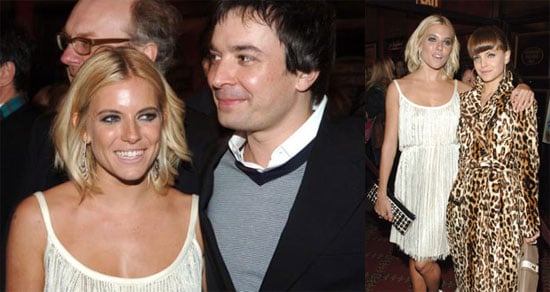 0
Sienna Premieres While Diddy Grabs the Memory Card
Factory Girl premiered earlier this week in NYC at the Ziegfeld Theatre. Sienna and costar Mena Suvari made quite a stir when they showed up to the show arm-in-arm. Poor Jimmy Fallon and Guy Pearce most likely got lost in all the commotion. Sienna sure is giving everyone a lot to talk about lately. Sunday morning Diddy was caught at her hotel at 9AM, but he had a perfectly good explanation. "I was just being a gentleman and dropping her off," he said. "We all hang out together, but there's no more to it than that." However now Page Six is reporting Diddy did his best to make sure pictures of the two were not taken. Here's more:
Page Six has learned that a Saturday night clubgoer at Crobar tried to take a photo of Combs and Miller dancing together. A security guard who entered with Diddy's entourage responded by taking the camera from her hand and confiscating the memory card.

"After the girl took the photo, Diddy didn't say or do anything," a witness said. "By the time he was 20 feet away, one of the security guys handed the camera to the bouncer, the bouncer handed it to the girl, and the memory card was gone."

"Diddy obviously doesn't want photos taken of him with Sienna," another source told us.

Joey Morrissey, who runs Crobar's Saturday night parties, confirmed Combs and Miller were there together. "They came in at 2 a.m. with security guards," he said. The two spent the next two hours "hanging out alone upstairs in VIP having drinks."
There may be lots of denials from Diddy and Sienna's people but seriously, when was the last time you stayed out until 9AM with one of your guy friends? Sienna sure has been stumping us lately. Between this Diddy thing and her recent pants-free escapade we don't know what to think anymore! For more pics including Jimmy Fallon, Guy Pearce, Jack Huston, and James Naughton just