Simon Cowell is ready to give Kate Moss a record deal. The host of American Idol and the UK version, The X Factor, knows a brand when he sees it and Kate is sell-able to him. While Kate and Pete celebrate Vogue's 90th last night, maybe she should be celebrating her other dream of being a singer possibly coming true. Here's more: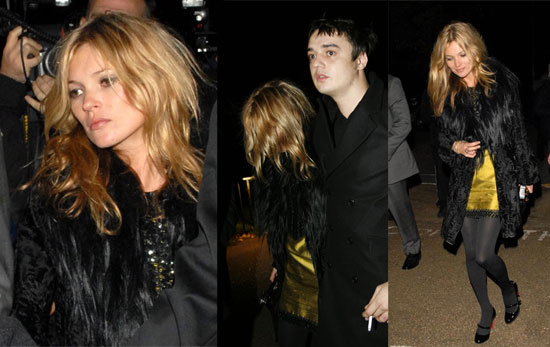 SIMON Cowell wants to sign Kate Moss on a huge recording contract - even if she CAN'T sing. But the pop guru has insisted he would not include her boyfriend Pete Doherty in any deal.

The X-Factor star revealed his desire to launch a pop career for the supermodel after she sang with the Babyshambles singer at a recent concert in Dublin. He said: "I would like to offer Kate Moss a recording contract, whether she can sing or not.

"The thing about Kate is that she's a star - it's the 'Kate factor'. People attach themselves to her and instantly become interesting." But he added: "There's no way I would take him [Pete] on. I doubt he'd turn up for anything."
To see more pics of Kate and Pete celebrating Vogue's big day, read more