Jessica and Ashlee play super nice in the November 6th issue of OK magazine. The girls talk about sibling rivalry, plastic surgery, and of course, boys. The duo want to make it clear that there is no sibling rivalry here. Jessica even addresses why she stormed out of a party for Ashlee in London and it wasn't because she was jealous of her little sis. As for Ashlee, well she is still addressing those plastic surgery rumors. Here's highlights: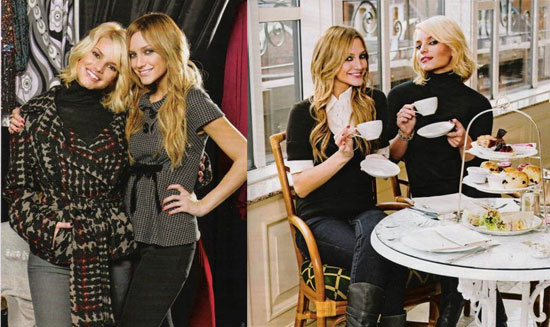 When questioned about why she abruptly left the party Jessica says:
It could have been because reporters had been asking me personal questions that I didn't feel comfortable answering. I think my dad was saying, "She doesn't want to comment because she doesn't want people to feel sorry for her." I wasn't storming out because I was sad. I was so happy for [Ashlee].
And when asked to address the plastic surgery rumors, Ashlee says:
You have to laugh at it because people make up the goofiest things. You have to go, "What are they talking about? I'm getting my teeth done?" Where are these people coming up with this stuff? My boobs? My boobs are beautiful! I'm not getting them done. I'm 22, they're up and they're high. C'mon!
Ashlee should be proud of her young breasts, but let's remember she said she was happy with all her God given gifts and then went and got a nose job. Anyway, it's obvious that the sisters are taking things into their own hands. I wonder if Jess is playing publicist for the both of them. She really seems to have it down. For more pics of the BFF sisters just read more