Sinead O'Connor's Open Letter to Miley Cyrus
Sinead O'Connor's Open Letter to Miley Cyrus: Truly Helpful or Too Harsh?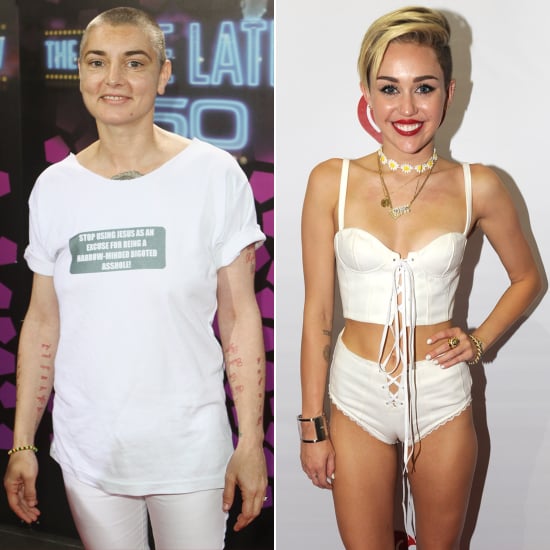 Update: After Miley Cyrus responded to Sinead O'Connor's initial open letter by tweeting a photo of her infamous SNL appearance and comparing her to Amanda Bynes, Sinead responded with another note, this time posted to her Facebook account. In it, she accuses Miley of mocking sexual abuse sufferers and those with mental illnesses, saying, "It is most unbecoming of you to respond in such a fashion to someone who expressed care for you. And worse that you are such an anti-female tool of the anti-female music industry."
Of all the celebrities to express an opinion on Miley Cyrus and her new "movement," it's Sinead O'Connor who may have the most critical viewpoint of all. The Irish singer-songwriter is the latest to weigh in on Miley and her racy new image in an open letter she posted to her website. Sinead explained that she felt compelled to speak out after reading that Miley's video for "Wrecking Ball" was inspired by her own hit "Nothing Compares 2 U" in the 20-year-old's recent Rolling Stone cover story. She wrote:
"I am extremely concerned for you that those around you have led you to believe, or encouraged you in your own belief, that it is in any way 'cool' to be naked and licking sledgehammers in your videos. Nothing but harm will come in the long run, from allowing yourself to be exploited, and it is absolutely NOT in ANY way an empowerment of yourself or any other young women, for you to send across the message that you are to be valued (even by you) more for your sexual appeal than your obvious talent."
Sinead goes on to say, "The music business doesn't give a sh*t about you, or any of us. They will prostitute you for all you are worth, and cleverly make you think it's what you wanted. None of the men ogling you give a sh*t about you either, do not be fooled." Between her criticism, though, Sinead praised the star by saying, "You have enough talent that you don't need to let the music business make a prostitute of you. Your records are good enough for you not to need any shedding of Hannah Montana. She's waaaaaaay gone by now. Not because you got naked but because you make great records."
The letter, which Sinead says was written "in the spirit of motherliness and with love," ends with a warning: "Women are to be valued for so much more than their sexuality. We aren't merely objects of desire. I would be encouraging you to send healthier messages to your peers; that they and you are worth more than what is currently going on in your career. Kindly fire any motherf*cker who hasn't expressed alarm, because they don't care about you."
While Sinead is no stranger to stirring up controversy — she became infamous for ripping up a picture of Pope John Paul II while saying, "Fight the real enemy!" on Saturday Night Live in 1992 — her letter to Miley seems a little intense. It's equal parts sage advice from an older, wiser musician and angry rant from a former superstar. What do you think about Sinead's letter to Miley? Is it truly helpful or way too harsh?