A Slutty Hilton Halloween
Nicky Hilton is working hard to get over Kevin by getting wasted and making out in public. So classy. The heiress went all out at the Playboy Mansion Halloween party to slut it up like her sister usually does. Sounds like people are starting to get sick of the duo. Page Six reports: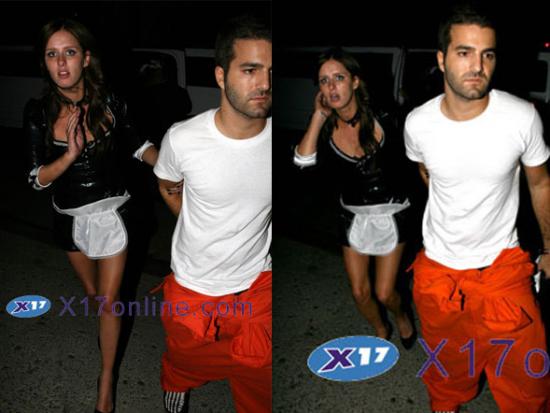 THE Hilton sisters were the main attraction at the Playboy Mansion Halloween party. Paris did her usual routine, dancing on a table and lip-syncing as her single, "Stars Are Blind," played. "The reaction is now always the same - her posse of sycophants surrounds her, cheering her, as most people groan," said our witness. "This is really getting old." Nicky provided her own show on the dance floor, "being bent over backwards against the stage by a height-challenged young man as she wrapped a leg around his hip and they played tonsil hockey. She later spent an hour crawling under the tables (apparently) looking for a lost purse. When upright, she was stumbling all over . . . as she was fondled everywhere but the bottoms of her feet by the little 'dance' partner .