Will Smith and Family React to Miley Cyrus at VMAs
LOL! The Smith Family's Jaw-Dropping Expressions Watching VMAs!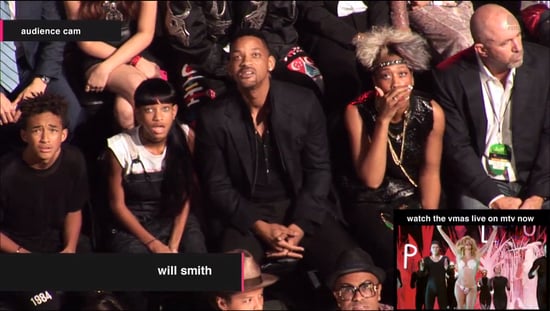 Miley Cyrus thrusted, twerked, and got sexy with teddy bears and Robin Thicke during her showy VMAs performance this evening in Brooklyn, while just minutes earlier Lady Gaga showed off her own ridiculous moves. During the audacious "We Can't Stop"/"Blurred Lines" and "Applause" medleys, the cameras cut to some of the audience reactions. Drake looked to be a little bit distracted during Miley, but Will Smith and his kids, Willow and Jaden, were literally mouth agape watching all some of the jaw-dropping moves. You should weigh in on all the VMAs performances and enjoy a smile watching the Smiths take in everything the VMAs had to offer.