Will Smith Wants Permission to Make-Out With Cameron
Will Smith may not have come home a winner at last night's Golden Globes, but he certainly didn't seem too worried about it while hamming it up with his Pursuit of Happyness costars in Rome over the weekend. Inside, though, Will is more full of Saddyness, and for good reason. Here's more: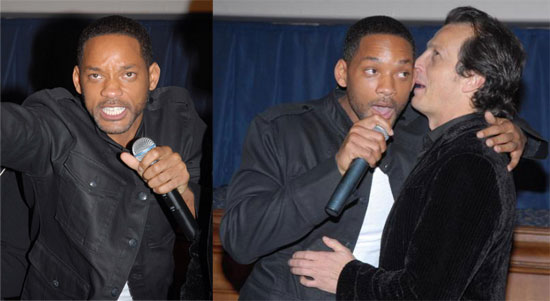 "Smith, one of the world's most bankable stars, appears mostly opposite black or Latino women," noted U.K. writer Leslie O'Toole. "He once confided to me that he'd love to make a romantic comedy with Cameron Diaz but feared that his audience wouldn't accept it."

"It's a shame, but it is what it is," Thandie Newton, his co-star in "The Pursuit of Happyness" lamented. "I think if it was done in the right way, where race wouldn't be an issue, it would be great. But you can't bend people's minds too quickly."
It's an unfortunate truth that interracial couples are still very much shied away from in Hollywood. Quotes like these remind us that there's still a long way to go to achieve racial equality in America. Seriously, how could you deny the preciousness (not a word, we know, just go with it) of a beautiful pairing like Heidi and Seal? What do you guys think?