So Much for Simpson Sisterly Love
I was just saying how it was cute that Jess was plugging her sister on TRL yet she did not even attend Ashlee's concert for Victoria's Secret that same evening. While on TRL Jessica said she was going but it looks like Vanessa may have scared her off. Page Six reports: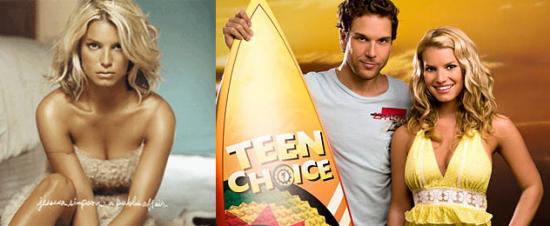 HORDES of teenage girls turned out to see Ashlee Simpson sing at the Victoria's Secret party celebrating its new Pink line at Pier 54 Wednesday night - but not Ashlee's sister, Jessica . Although she was in town, Jessica skipped the performance, sending word she "didn't want to steal Ashlee's spotlight." But we hear she wanted to avoid any chance of running into Vanessa Minnillo, the "ET" correspondent dating her ex, Nick Lachey. Minnillo had been thinking of stopping by. "At the last minute, Vanessa decided not to go," said our spy.
I do think Jessica's album cover is pretty classy looking but I think it's totally tacky that it looks like her co-host for the Teen Choice Awards is her new denied boyfriend. I know they have a movie coming out but I am starting to think this girl always needs to work with a man - kind of like when we fell in love with her because she was with Nick. We'll see. Maybe Jess and Dane are just a good comedy team.