Some Cowboys Don't Want Jessica In The Stands
Some Cowboys Don't Want Jessica In The Stands
Dallas Cowboy fans seem to think that Jessica Simpson is bad luck for her new boyfriend Tony Romo and his football team after his disastrous game last Sunday. We know how superstitious sports fans can be, but even Tony's teammates are getting in on the joke. Terrell Owens took it upon himself to speak out against Jess after she cheered on the team to no avail last week, and his words were far from kind. He said: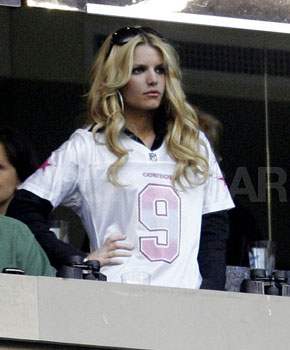 "Right now, Jessica Simpson is not a fan favorite — in this locker room or in Texas Stadium. With everything that has happened, obviously with the way Tony played and the comparison between her and Carrie Underwood, I think a lot of people feel she has taken his focus away. Other than that, she was high on my list until last week. Oh, I got a message for her when we make the playoffs. Just stay tuned."
Hmm, even if he was just joking, it sounds like Jess might want to watch the next few games from the comfort of her living room. Then again maybe she just needs to burn that shirt and hunt for a luckier item of clothing to wear to Tony's games.