Spelling Saga Continues - Sucks to be Tori
Daddy's little girl is not getting spoiled anymore. Aaron Spelling is leaving behind a $500 million fortune but it looks like Tori will get less than $1 million. Extra reports: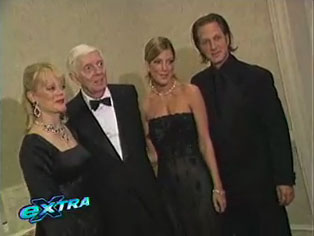 As the tabloid-soaked story makes the latest cover of Us Weekly, the magazine's Katrina Szish told us the feud could turn into a dynasty duel. "Extra" has obtained a copy of Spelling's will, and the secret inside could spell trouble for Tori.

"Tori and her mom, Candy, have been estranged and feuding for years," Szish said. "Candy is executor of the will, and therefore she is in charge of divvying up the $500 million fortune."

Us Weekly reports that Tori is set to inherit $200,000, plus $600,000 in investments, that is unless Tori's mother wants to give her more.

"Tori, Aaron's only daughter is getting less than a million dollars," Szish said. "And Candy's manicurist will get $25,000, and their home decorator will get $50,000."
Damn. That's gotta hurt. I wonder if Dean is now pissed he left his wife and kids for what he thought was a sure thing in terms of money and instead they will be in the poor house - at least in Hollywood terms.