Since Tori decided to make her father's death a tabloid cover story, her mother, Candy decided to let everyone know how they feel about Tori. Sad but true, the Spellings have become a real life soap-opera. Candy released this statement as reported by ET: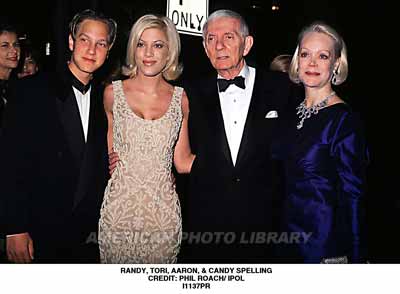 "We are deeply saddened that, during our time of loss and grief, we are forced to respond to the media frenzy caused by the mean-spirited and surprising comments made by Tori to the press, just two days after the passing of [AARON SPELLING]. As we try to honor his memory with love and respect, the sudden media frenzy she has created at this sensitive time is hurtful and very disturbing. Aaron's legacy deserved pure and unadulterated tribute and recognition which, sadly, has been tainted.

"Everyone deals with grief in a different way, and since Tori chose not to be here at that time, we believe she is having a harder time dealing with that loss. We understand how difficult it might have been for her to be here, and, perhaps, more difficult for her after she arrived. Aaron loved both his children with all his heart, and he understood how hard it was for her.

"We hope Aaron will be remembered with reverence and spirit for the monumental legacy he has left and not for the petty and tabloid headlines which have marred his articles of remembrance. We have mourned our great loss as a family and will continue to do so as that is what Aaron deserved."