Spencer Pratt to Run For Office in California
Heidi and Spencer Love The Hills, Paparazzi, and Are "Definitely" Running For Office!
Heidi Montag and Spencer Pratt were embroiled in lots of drama on last night's episode of The Hills, and this morning they chatted with us about their relationship, plans for the future, and how much fun they have together. They also denied upcoming wedding plans — more on that soon! Love them or hate them, Heidi and Spencer are equal-opportunity appreciators of all their fans, followers, and even haters. It's hard to disparage their happy attitude and genuine thankfulness for everything The Hills has given them over the past few years. There will be more from the interview coming up, but for now here's some of the highlights: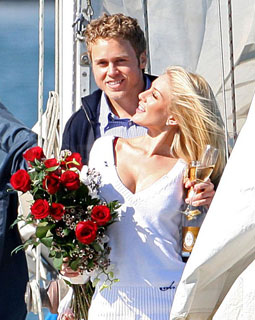 Spencer on having fun with the paparazzi: Honestly, I have more fun smiling for the cameras with Heidi in cheesy situations than I do with pretty much anything else. I would say the boat [on Valentine's Day 2008] was my favorite. When we went on a yacht and the guy pretended like he knew how to drive it but we crashed into another yacht. That was definitely one of our best . . . But you know what I said to Heidi? People started taking it for granted. They started looking at it in a dirty way, and they took the fun out of it. We don't want to abuse it. It's too special to me.
Spencer on getting into politics: Yes. Definitely running. Don't know if I'll be getting elected any time in the next century or so. But definitely going after mayor of LA and at least governor, but I'll prob stop at governor. I mean if people were really pushing for me [to run for president] at that point, I'll probably have to step into that role. That pressure may be a little much. I'll start with California because I love California so much, that I could have that passion for my state and my birthplace.
To see what he has to say about life after The Hills and their love for Twitter, just read more.
Spencer on Twitter: It's so great to finally get a chance for people to see the other sides of us, and not just the 22 minutes that MTV chose to use. It's fun to talk back and forth with people who call themselves fans, or followers, or just straight haters. I love them all. One of my favorite things that ever happened in my life is Twitter. Just being so connected to so many people, from so many different places. Anytime of night you can Twitter, you can talk to people in different countries that are so awake.
Spencer on their dream show after The Hills: It would be called The Hills Continues [laughs]. No honestly, The Hills is the greatest blessing in my life and I know Heidi's life. We love it. It's so much fun. I mean we're so appreciative. It makes me sick when I hear people say, "I'm quitting The Hills. I'm going to go do this." Heidi does music on the side, because she loves it. But she would never say, I don't like The Hills and I want to do music, like other people do. We do music in addition to The Hills. The Hills is so much fun. It's so cool. It's crazy that people would ever consider quitting just because they have other opportunities. [I would do it] until I'm 90 with a cane and a walker.
Lots more to come from Heidi and Spencer including details about their album. Whatever your feelings are toward the publicity-loving couple, they're certainly good sports and more than willing to play along. We know you have strong feelings toward these two, so anonymous comments are open in this post!