Is Spider-Man 3 the Last One?
We have not even done our best of 2006 lists and already we are reading about the must see movies in 2007. Premiere Magazine has us looking forward to next year - especially Spider-Man 3. Unfortunately, we are already hearing more about the possibility that this may be the last installment in this series. Kirsten already leaked that they may be finished and now Tobey is eluding to the same thing. The physical demands of Spider-man is one thing but now Tobey's a dad so the stunts and time away from his daughter may not be worth it anymore. Besides, he thinks number three is a good place to end the franchise. Here's more: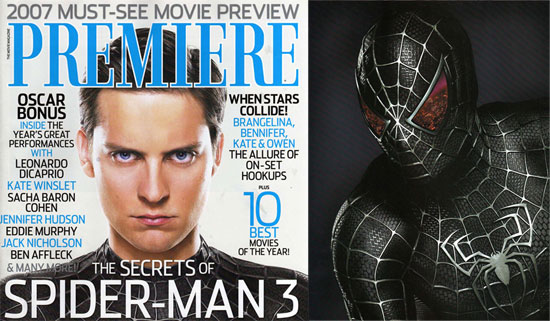 He says, "This might be a good place to stop - I am not tied contractually to any more Spider-Man movies. I am not completely closed to the idea of another one if it made sense but I would say the odds were in favour of this being the last one." Last month (OCT06) Maguire's co-star and onscreen love interest KIRSTEN DUNST hinted she's keen to ditch the movies too and take up art instead. She said, "I'm not the type of actress who does movie after movie."
Boo! We love Spidey and will be sorry to see it go. Still it makes sense to leave it as a trilogy. At least until the next trilogy! There's more about the film in this great article in Premiere Magazine. To check it out just read more