Stars of Big and Small Screens Gather at EW Party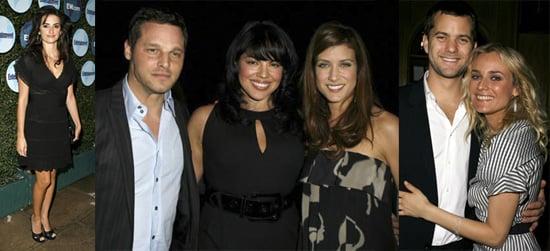 0
Stars of Big and Small Screens Gather at EW Party
Some non-Oscar nominated TV stars got together last night with a few fabulous Oscar nominees to get ready for Sunday's big event! We're hoping since Joshua Jackson has been making his way around the Oscar party scene we'll get to see him walk the red carpet. Pretty Penelope is adorable as always, but looks like she made her way without her sister to last night's EW party, hosted by Antonio and Melanie Griffith. Rather than staying home to watch the 3 episode Grey's saga wrap up, some of the cast was out celebrating as well. Can't blame them though, this party looks like a blast!
Time is running out to fill out your Oscar ballot The Grand Prize winner will score a fabulous Prada bag while runners-up will get $50 to $500 gift cards from Neiman Marcus, Sephora and The Apple Store. For official rules click here. Good luck! For lots more pics including the Gores, Antonio, Hayden and tons more just
Images include Al Gore, Antonio Banderas, Penelope Cruz, Melanie Griffith, Ludacris, Benjamin McKenzie, Bradley Whitford, Brandon Routh, Joshua Jackson, Diane Kruger, Hayden Panettiere, James Denton, Jenna Elfman, Justin Chambers, Kate Walsh, Sara Ramirez, Kyra Sedgwick, Milla Jovovich, Rose McGowan.