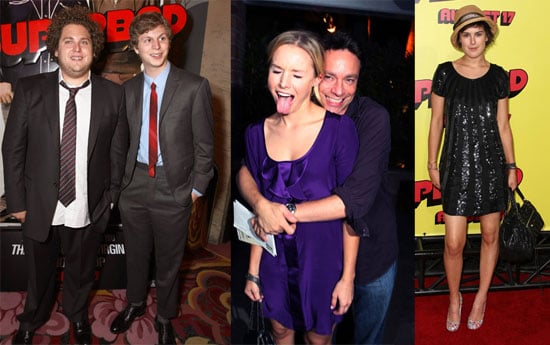 0
The Stars Get Down With Their Superbad Selves
Last night a smattering of celebs came out to celebrate at the LA premiere of Superbad - from SNLers to possibly Lost-headed Kristen Bell to Rumer to Hanson - that's right, Hanson. However, the stars of the night were the trio of adorable geeks who star in the movie - Michael Cera, Jonah Hill and Christopher Mintz-Plasse. The boys play three social outcasts who embark on a quest to score every High School boy's fantasy: alcohol and girls. The movie is already getting great reviews so check back later this week for Buzz's take and exclusive interview with adorable Michael Cera.
So many more pics including Rumer Willis, David Spade, Paul Rudd and so many more so just
Images include Michael Cera, Jonah Hill, Christopher Mintz-Plasse, Rumer Willis, Judd Apatow, Leslie Mann, Seth Rogen, David Spade, Rachel Dratch, Will Forte, Zac Hanson, Isaac Hanson, Taylor Hanson, Chris Kattan, Casey Margolis, Kevin Smith, Paul Rudd, Shauna Robertson, Emma Stone, Martha Macisaac, Greg Motola, Aviva, Maggie Grace, Kat Dennings, Kristen Bell, Janice Dickinson, and Pharrell Williams, McG.