Steve Martin's Governors Awards Speech 2013 | Video
Angelina Jolie and Steve Martin Wow the Crowd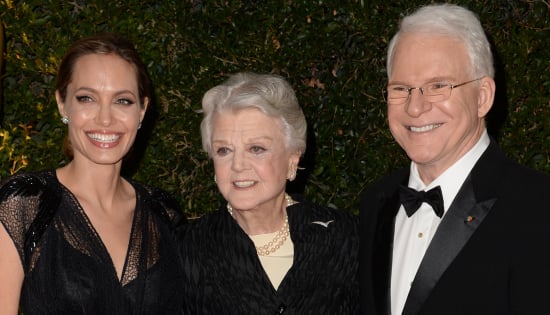 Saturday's Governors Awards marked a special night for Angelina Jolie, Steve Martin, and Angela Lansbury, and all three honorees moved the crowd with thoughtful, memorable acceptance speeches. Each year, the Governors Awards honor those with outstanding achievements in film, and this year, the honorary Oscar recipients brought their signature charm to the stage. While Angelina gave a sweet shout out to Brad Pitt and their family, Steve had the audience cracking up before taking an emotional turn, holding back tears as he spoke of his wife's support. Angela, too, captured the group's attention, mentioning some of her best memories with Hollywood icons like Ingrid Bergman and Frank Sinatra. The private event brought out some of Hollywood's biggest names, including Jennifer Garner, Tom Hanks, Jake Gyllenhaal, Matthew McConaughey, and Brad, who joined Angelina and their son Maddox on the red carpet. Watch all three speeches below:
Angelina Jolie
Angelina became the youngest person to ever receive the Jean Hersholt Humanitarian Award, receiving an honorary Oscar for her activism efforts in film, including her work on A Mighty Heart and In the Land of Blood and Honey. Accepting her award, she said, "My family, my love, your support and your guidance make everything that I do possible. Mad — I'm not going to cry I promise, I won't embarrass you — you and your brothers and sisters are my happiness, there is no greater honor than being your mom."
Steve Martin
After Tom and Martin Short shared some kind words about Steve, he took the stage to accept his award — just as Tom swooped in to take a selfie with Steve at the podium. Showing off his comedy chops, Steve took a funny dig at Tom before giving a poignant speech about his film career, getting choked up as he talked about his friends, his work, and his wife.
Keep reading to watch Angela's speech.
Angela Lansbury
With a successful career that spans decades, Angela looked back at some of her early years in the spotlight, name-dropping the iconic actors and actresses she loved to work with in the past. She talked about Bergman, "Kate" Hepburn, and Sinatra before thanking her loved ones and actress Emma Thompson for their support.