Sumner Still Cruise Bashing
Sumner Redstone fired Tom Cruise this summer and in an interview in December's VF he continues to bash him. He calls Tom a total embarrassment to Paramount and said his wife helped him make the decision to fire him. Page Six sums it up for us. Here's more: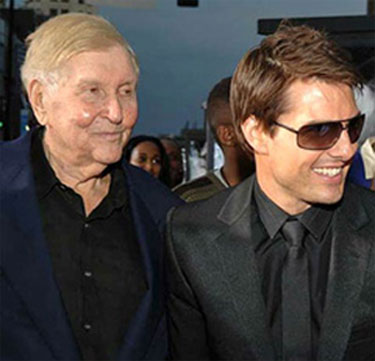 Confirming a Page Six exclusive, Redstone admits it was his wife, Paula, who first soured on Cruise, which resulted in his decision not to renew Paramount's megabucks deal with Cruise's production company. "Paula, like women everywhere, had come to hate him. The truth of the matter is, I did listen to her . . ." Redstone says. "His behavior was entirely unacceptable to Paula and to the rest of the world. He just didn't turn one [woman] off. He turned off all women, and a lot of men."

Redstone estimates that Cruise's antics - acting wacky, ripping into psychiatry, firing his professional publicist - were the key elements in the star's downfall: "When did I decide [to fire him]? I don't know. When he was on the 'Today' show? When he was jumping on a couch at 'Oprah'? He changed his handler, you know, to his sister [LeAnne Devette] - not a good idea."

Redstone estimates that Cruise's bizarre behavior cost Paramount "$100 million, $150 million on 'Mission: Impossible III.' It was the best picture of the three, and it did the worst." He isn't sorry he embarrassed Cruise publicly: "The explosion was good. It sent a message to the rest of the world that the time of the big star getting all this money is over. And it is! I would like to think that what I did, or what we did, has had a salutary effect on the rest of the industry."
Stay Tuned. We bet Tom's people will react to these statements. Another fire Tom has to put out right before his big wedding day.