Super Mom Gwen Wants Another Baby
Gwen and Kingston went out shopping in Beverly Hills over the weekend. Ever since he was born he's been her constant companion. She's having so much fun with him, she says she can't wait to have another one. Gwen finds there are lots of benefits to having a baby. While she says the first four and half months of pregnancy out on the road were "gnarly," Kingston is a really easy going baby. Plus, she says she thinks nursing "gives you superhuman powers." Well with all she has accomplished this year she certainly is some sort of super hero. Here's highlights from USA Today: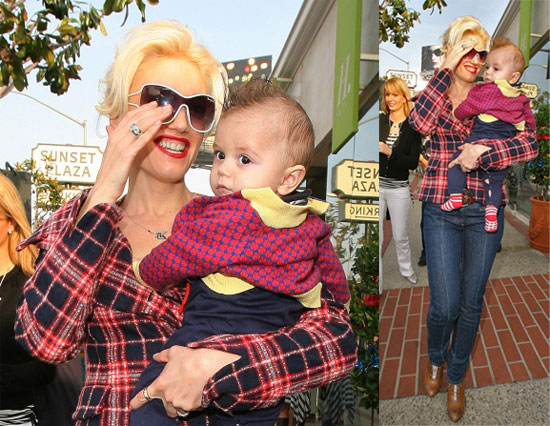 On expanding her family:
"I pray that I can have another baby," she says. "I mean, it's such a miracle to have one. And there's so much I still want to do, because who knows? Things could be a lot harder a few years from now. I mean, I'm not at the beginning of my career. I'm on a ticking clock. And I don't want to miss anything."
On life with Kingston:
"There's this huge team of us always hanging out together, so he gets to see the same people every day," Stefani says. "And he's this very cool, chilled-out little guy. He's just like another person, except that he's super-cute and super-entertaining."
On losing her pregnancy weight in only a few months:
"That was one of the hardest things for me — the pressure of, 'OK, I need to get into shape so that I can put this record out.' If I didn't have that pressure, I don't think I would have gotten the baby weight off so quickly."
We're all for Gwen having another baby, however, we're not sure where she'd put him. She prefers holding Kingston to a stroller so if she had another one she'd literally have her hands full! Maybe it means we get to see more of cute Gavin as well. For more adorable pics just read more