Suri Cruise Checks Out Penis Gummies in NYC
Suri Cruise Checks Out the Adult Candies For Sale in NYC — Hilarious or Wildly Inappropriate?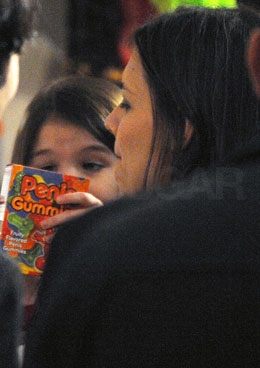 Katie Holmes capped off her fancy evening with friends and busy afternoon of showing off her Holmes and Yang clothing line by making a midnight dessert run to NYC's Serendipity with her daughter Suri. It seems as though Suri's sweet tooth wasn't satisfied by the treats they enjoyed at their table, because on their way out she grabbed a box of adult candies called "Penis Gummies." The almost four-year-old likely didn't know what exactly she was looking at, but the image of her holding those candies is certainly startling. Tell us what you think of Suri's late night snack grab — hilarious or wildly inappropriate?