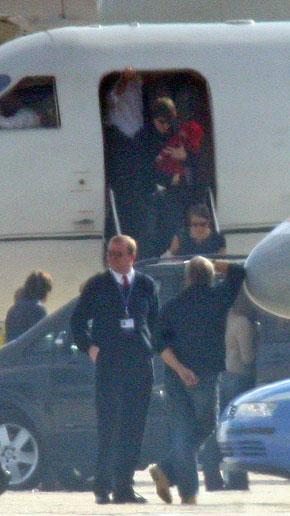 Tom and Katie are in Rome gearing up for their big weekend wedding. But in even bigger news, we get a little glimpse of Suri as Tom is exiting the plane. Having a tough time keeping up with all the rumored details for the big day? Here are a few highlights:
Holmes' Giorgio Armani-designed gown is "floaty," according to the New York Daily News.
Cruise's Giorgio Armani-designed tuxedo is presumed to be black.
Odescalchi (said castle) was built in the 15th century. It has a private chapel, 12 halls and 300 parking spaces. It is believed the parking spaces weren't added until at least the 16th century.
Per the castle's official Website, constructed sometime after the 1800s, a ceremony at Odescalchi "unfolds with refined and somber elegance."