Tara's Bad Boobs
Tara's Bad Boobs
Tara's chest has clearly been reduced in size, and now that her horrible breast implants have been updated she is speaking out about her plastic surgery nightmare. In the upcoming issue of US Weekly she dishes about what went wrong, hooking up with guys and getting lipo. Just cross your fingers you'll never have to see those awful shots of Tara's boobs again! Here's more: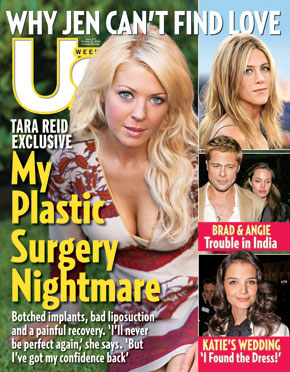 On what went wrong:
"First of all, I asked for big Bs, and he did not give me big Bs. He gave me Cs, and I didn't want them. At all. Right after the surgery, I had some bumps along the edges of my nipples, but the doctor said, 'Don't worry, it's going to be better.' But after six months of 'it's going to get better,' it started to get worse and worse."

On being intimate:
"Guys I was dating would be like, 'What's wrong with them? They look really bad. You know, you should really get them fixed.' So embarrassing. I mean, you definitely need to turn off the lights, that's for sure."

On getting lipo:
"I got lipo because even though I was skinny, I wanted – I'm not going to lie – a six-pack. I had body contouring, but it all went wrong. My stomach became the most ripply, bulgy thing."
She asked for Bs - oh please - those things ended up being more than Cs. Tara is working overtime on her image makeover and everyone knows this country loves a good comeback. She is looking classy in her AKA dress. Let's see if Tara can turn things around for herself. Getting the boobs fixed is definitely a start.