The fun continued for Tara down in Australia for the Magic Millions racing carnival. She made a trip to Sea World to swim with the dolphins and called it the most magical moment of her life. Tara's been through so much it's hard to believe that this is the most magical. Here's more: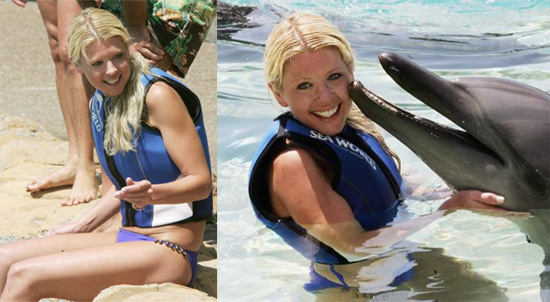 "It was unbelievable," she said afterwards. "It was one of the most magical moments of my life. I think this is my favourite experience, it's amazing.

"It's so funny because in America everyone has dreams of what they want to do. That's one of the things I've always wanted to do in my life and never accomplished and I just did now. I'm on a tour high."

"I love the Gold Coast, it's amazing," said Reid.

"I love Australia. The people are amazing and I love Australians, they're a lot of fun and just really good people."
What it is about Tara and bikinis? She sure loves to be in one as often as possible. More of Tara swimming around with the dolphins and showing off her new and improved bod so read more