Tattoo Model Michelle McGee Claims an Affair With Sandra Bullock's Husband, Jesse James 2010-03-17 08:25:00
New Story Claims Jesse James Cheated on Sandra Bullock — Do You Buy It?
This week's InTouch has the shocking cover story that recent Oscar winner Sandra Bullock's husband, Jesse James, carried on a months-long affair while she was off working on The Blind Side in Austin. Tattoo model Michelle McGee claims to have met Jesse when she wanted to model for his West Coast Choppers.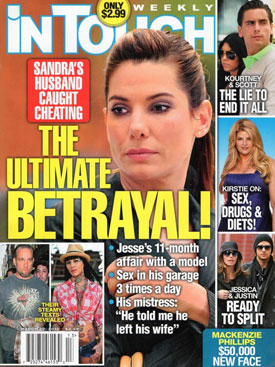 She told the magazine, "I asked him, 'What's going on with you and Sandra?' He said, 'She doesn't live here. She has a house in Austin. She is filming, and I can't talk about it.'" Sandra was so sweet in thanking him in her many awards season acceptance speeches, so it seems like this just can't be true. However, she's already apparently pulled out of an appearance in the UK due to "unforeseen circumstances." It hasn't been a good week for the marriages of best-actress winners after Kate Winslet's split announcement, leading some to believe there's an Academy Award curse. Tell us what you think of this story — are you buying it?