Taylor Swift in InStyle Magazine November 2013
Taylor Swift Is in a Bad-Boy Phase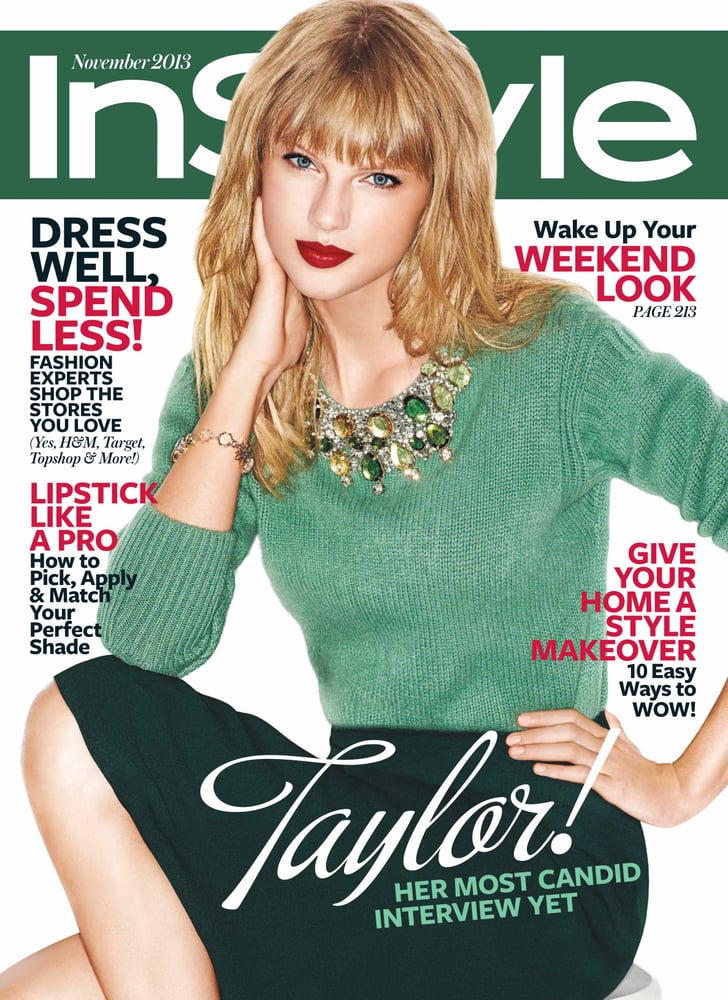 Taylor Swift graces the cover of InStyle's November issue, opening up to the magazine about her love life, her haters, and how she feels about bad boys. Sharing the advice of her friend Ed Sheeran, Taylor talks about how her attitude toward relationships has changed over time, saying that she's no longer coming from a "daydreamy prince-and-princess place." See what else we learned about Taylor with some of her candid quotes below, and check out the rest of the interview when the issue hits newsstands on Oct. 18.
Like everyone else, she has her insecurities: "Every single part of me has been dissected at some point or another by a blog writer or a 14-year-old girl on a comments page who says something really terrible. Or someone in middle school who points out [fakes a mean girl voice], 'You have little eyes.'"
She believes in different types of love: "I think that you can love people without it being the great love. Ed [Sheeran] said something that really resonated with me. He says there are different kinds of love: There's physical attraction, mental attraction, and emotional attraction; there's also comfort and obsession. You need to have all of those things in one person. You have to mentally respect them, be physically attracted, and have a comfort level. You're obsessed with them, yet you also know they're going to stay. I've never had that in one person."
She can't resist the bad boys: "My friends tease me about the fact that if someone seems bad or shady or like they have a secret, I find them incredibly interesting. That's just a phase I've been in lately. I don't think this should be how I proceed in life. It's important to be self-aware about these things because you don't want to end up with that guy."
She puts a positive spin on her jealousy: "I feel jealousy, but I've been trying to channel it into mutual admiration and inspiration. If someone has a really great boyfriend or career, I think, it's cool that happens. Now I have proof it can happen. Maybe that's out there for me someday."
She's adopted a new perspective on relationships: "Early on, my ideas about love came from a daydreamy prince-and-princess place. But when I actually experienced it, I realized it wasn't those things. It can be — but not always."
She knows not everyone will root for her: "If you slip and fall at your concert, fans are going to laugh with you. They'll put it on YouTube — but it's going to be like a joke we're all in on. They aren't hoping I'll fall. But at an awards show you know there are at least a few people thinking, Trip, trip, trip!"