Taylor Swift Interview in Vanity Fair April 2013
Taylor Swift Reveals the Truth About Her Love Life in Vanity Fair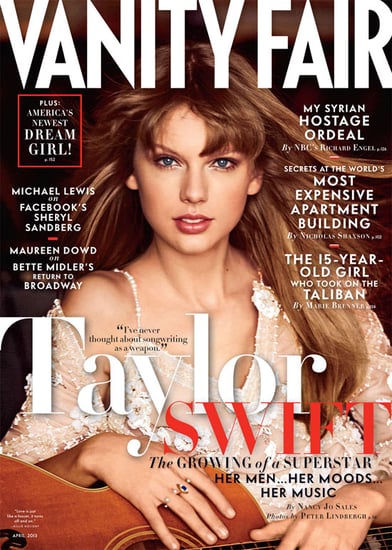 Taylor Swift opens up about her infamous love life in the April edition of Vanity Fair, which hits newsstands on March 7. She poses with her guitar in the windswept cover and reveals to Vanity Fair contributing editor Nancy Jo Sales that she finds it sexist that people slam her for writing music about her romantic past. Taylor also goes on to talk about her alleged string of boyfriends and her response to Tina Fey and Amy Poehler's Golden Globes joke back in January. Read on for more from Taylor Swift in Vanity Fair.
On her many rumored boyfriends: "If you want some big revelation, since 2010 I have dated exactly two people. [Meaning Conor Kennedy and Harry Styles.] The fact that there are slide shows of a dozen guys that I either hugged on a red carpet or met for lunch or wrote a song with. . . it's just kind of ridiculous."
On her reputation for writing love songs: "For a female to write about her feelings, and then be portrayed as some clingy, insane, desperate girlfriend in need of making you marry her and have kids with her, I think that's taking something that potentially should be celebrated — a woman writing about her feelings in a confessional way — that's taking it and turning it and twisting it into something that is frankly a little sexist."
On Tina Fey and Amy Poehler's Golden Globes joke: "You know, Katie Couric is one of my favorite people because she said to me she had heard a quote that she loved, that said, 'There's a special place in hell for women who don't help other women.'"