Taylor Swift Meeting Prince William | Pictures
Taylor Swift, Prince William, and Bon Jovi Sing Livin' on a Prayer — See Video and GIFs!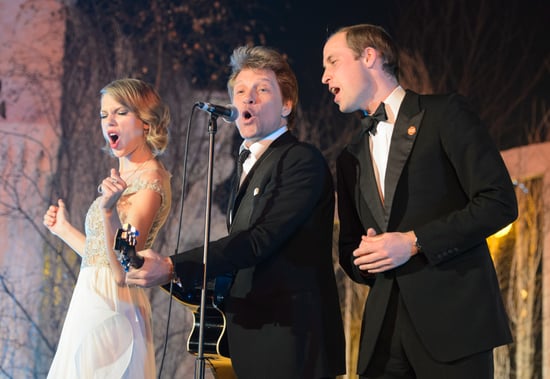 Taylor Swift looked like a true princess in a Reem Acra gown on Tuesday when she attended the Winter Whites Gala at Kensington Palace in London, but she wasn't the only star at the bash. Jon Bon Jovi and his entire family also stopped by the black-tie party, where Jon was honored with a special award by the night's host, Prince William. Taylor got a chance to catch up with William, and she told reporters on hand that he was "really funny" and "so cool."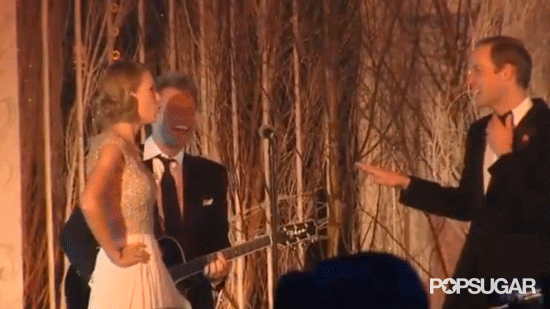 Unfortunately for the stars, Kate Middleton was not in attendance at the gala, despite previous reports that she would make an appearance. However, the lack of the Duchess of Cambridge didn't stifle Taylor's enthusiasm as she chatted with Jon Bon Jovi and mingled with the society crowd while carrying a clutch from one of Kate's favorite designers, Jenny Packham.
Earlier this month, Taylor said she was excited to attend the gala, adding that she had been brushing up on her etiquette. She said, "I think I'm just really safe if I just shake hands and be polite. I think that's being presumptuous in assuming I'll meet them, so first I'm going to be polite enough to not assume I'll meet them." She and Bon Jovi also performed during the event and got a special treat when William joined both of the artists on stage to sing "Livin' on a Prayer."
Keep reading for more photos of the night's festivities.