Ted Cruz and Obamacare
Why Was Sen. Ted Cruz Reading Green Eggs and Ham on the Senate Floor?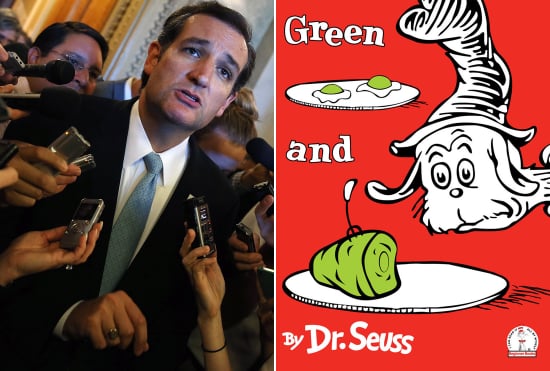 What do Dr. Seuss and Obamacare have in common? Well, Sen. Ted Cruz is on a mission to defund the latter with the help of the former. Yesterday, the Tea Party Texas lawmaker took to the Senate floor and did not stop talking for 21 hours in an attempt to stop the implementation of the Affordable Care Act on Oct. 1. His plan was convoluted. See, the House of Representatives passed a bill that would prevent a looming government shutdown only if Obamacare is defunded. That bill is headed to the Democratically controlled Senate, where the anti-Obamacare provision will likely be removed. Cruz's mission was to stop the Senate from doing so. He said unless the Democrats keep it in, "I intend to speak until I cannot stand." During his marathon session, which ended Wednesday morning, Cruz read bedtime stories to his daughters, including an impassioned rendition of Green Eggs and Ham, seen below.
As you might imagine, Cruz's dramatic readings and unofficial filibuster aren't popular with everyone, including Republicans. John McCain had harsh words for his less-experienced colleague, whom he's called a "wacko bird." McCain said this week: "It will be a cold day in Gila Bend, AZ, when we defund Obamacare. Very cold day. In fact, there might be a snowstorm." Not that he supports the law. It's just not realistic that anything can be done to stop it, and many think Cruz is just trying to set himself up for a 2016 run for president. Last night, Jon Stewart also took on the plan to stop Obamacare with the threat of government shutdown. "I don't understand any of this," Jon said. "You're protecting America from this terrible Obamacare plan that once we get a taste of we'll never want to be without."
Assuming everything goes according to plan, you might want to know more about the Affordable Care Act, much of which goes into effect next month when the health insurance marketplace opens up. Just today the premium rates were released, and they're lower than expected. Are you looking forward to it?