Teen Choice Show: Full Of Glitter And (Mostly) PG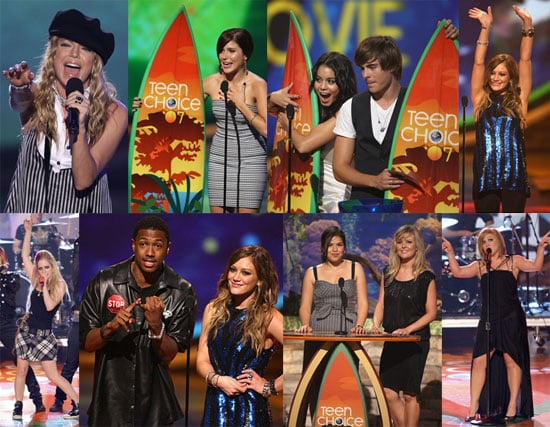 0
Teen Choice Show: Full Of Glitter And (Mostly) PG
How about those Teen Choice Awards? Fun times. Actually, the show was pretty boring, but highlights included the always-hilarious Superbad boys (and really, who hasn't had a conversation about how to pronounce Josh Duhamel's last name?) and the Hilary-Nick-Snoop rap off. Also, Fergie's emotion seemed so cute and genuine when she got choked up accepting her award. Check out the full list of winners here. Did anyone else think it was weird that there was so much bleeped out swearing -- Dane Cook and Avril in particular? Anyway, did any of you have favorite moments? Secretly swoon when Shia or Zac took the stage? Did John Travolta totally skeeve you out, too?
To see a whole boatload of show pics including Avril, Fergie, America, Justin, Seacrest, Sean Kingston, Zac/Vanessa and lots more just
Images include Shia LaBeouf, Dane Cook, Sophia Bush, Jason Lee, Justin Long, America Ferrera, Ashley Jensen, Avril Lavigne, Bow Wow, Omarion, Christopher Mintz-Plasse, Michael Cera, Jonah Hill, David Spade, Eve, Megan Fox, The Rock, Emmy Rossum, Fergie, Hilary Duff, Nick Cannon, Jessica Alba, Zac Efron, John Travolta, Kelly Clarkson, Lauren Conrad, Audrina Patridge, Miley Cyrus, Nikki Blonsky, Ryan Reynolds, Ryan Seacrest, Sean Kingston, Snoop Dogg, Jordin Sparks, Apolo Anton Ohno, Steve Carell, Vanessa Hudgens, Taylor Kitsch, Adrianne Palicki.