Text Kevin Federline Now at 310-876-4210
Kevin Federline left his vacation in Miami to work Times Square. This time he was there to do some good. He admits to doing his first charity event. He looked a little off key but good for him for doing some good. It may not be on the Jolie level but it's a start. You can click here to watch the clip from Best Week Ever. The Lowdown has more: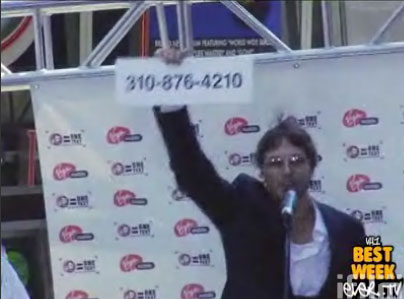 "What's up, New York!" Federline shouted from a stage after arriving in an armored truck decorated with 120,000 pennies. "I'm here with Virgin Mobile to bring the power back to the penny! I feel good about the penny! I'm glad to give it back to these charities."

Then he sent the first 1-cent text, claiming it went to "my wife." Mugging for the cameras, Federline held up a penny and slipped it in the armored vehicle's donation slot. Then K-Fed took a cigarette break, wiping his hand on his pants before doing a few television interviews.

"I just gave all my pennies to charity!" he bragged to one TV outlet. To another, he said: "A bunch of charities get these children off the streets - build a better life, build a better future, for these children." And to another: "There's thousands of kids out here that have nowhere to go." He admitted to "Access Hollywood's" Tim Vincent: "It's my first time doing a charity."