Thomas Horn in the Critics' Choice Awards Press Room
Thomas Horn Tears Up and Talks Having "a Blast" With Tom Hanks and Sandra Bullock
Thomas Horn took home the best young actor/actress award tonight at the Critics' Choice Awards for his work in Extremely Loud and Incredibly Close, and the former winner of Jeopardy: Kids' Week couldn't hold back some tears as he talked about his first big-screen role, his costars Tom Hanks and Sandra Bullock, and whether he'll continue on his newfound path as an actor.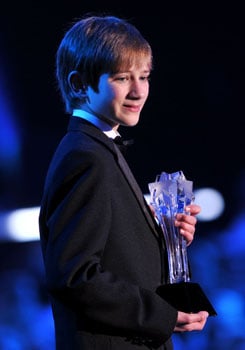 On learning from Tom Hanks and Sandra Bullock: "It was really amazing to work with them and I learned so much from them. . . . Just about the way an actor has to carry themselves on camera, off camera, the way the actor has to get completely into character and remain there. . . . They're really great. It was just a blast. I fell in love with them! I'm so lucky."
On having a fan in Angelina Jolie and maybe working with her in the future: "I think I might. I met her once, briefly, but she seemed really kind and I mean, I've seen some of her work and she's amazing. She's an amazing actress, and yes, I'd love to if I get the chance."
On whether he'll continue acting: "It's really been great to meet all these people, all these actors producers, directors, and I've met so many . . . but I may never necessarily do another movie again, and that would be just fine."
On what he's like in his day-to-day life: "Thomas is a very normal, boring sort of boy, and he likes to read a lot of books and walk and run around and sleep a lot."
On his Jeopardy winnings: "I won $31,800 before taxes and so far I have not spent it."