Tiger Woods Comeback
10 Steps to a Tiger Woods Comeback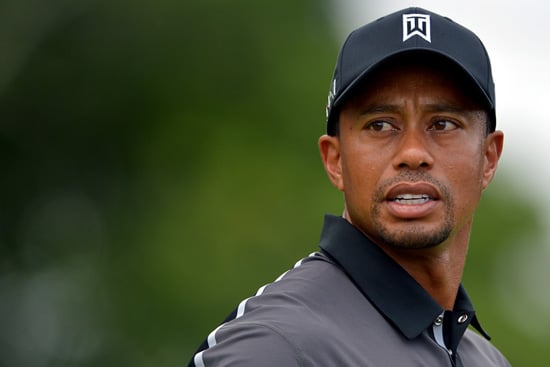 "Winning takes care of everything," claims the latest Tiger Woods Nike ad, but in reality, his comeback hasn't been so simple. After he crashed his Escalade over Thanksgiving 2009, Tiger's brand was in free fall thanks to the ensuing sex scandal. An apologetic press conference nor a trip to sex-addict rehab seemed to solve his image problem right away. And to make things worse, he suffered injuries and losses on the golf course. But now, more than three years later, Tiger's image has improved, he's on the verge of signing a major new contract with Nike, and he's the No. 1 golfer in the world going into the US Open, which kicked off yesterday. Tiger's slow climb into the public's good graces offers a study into the art of a celebrity comeback. Let's examine it step by step below.
Step 1: Reach a resolution.
Before Tiger could move on from his infidelity drama, he had to officially settle his divorce. He did so in August 2010 and reportedly paid his ex-wife, Elin Nordegren, anywhere from $110 million to $350 million. Lesson: before you move on, you have to bring the original scandal to some conclusion. Following the divorce settlement, Elin gave her first interview since the scandal to People. In it, she spoke about how she had no idea Tiger was cheating, since she was at home focusing on her family. She also noted that "forgiveness takes time."
Step 2: Get used to being a loser.
Long the reigning champ of golf and an American icon, Tiger had to adjust to being a loser following his sordid scandal. Less than a year after it, he lost his No. 1 ranking to Lee Westwood, ending his record streak of 281 weeks at top. Later injuries wouldn't help Tiger's quest to regain the spot.
Step 3: Connect with your remaining fans.
On Nov. 17, 2010, Tiger Woods joined Twitter. He used the social network to reconnect with fans, even staging a Q&A. It was a smart way to get positive momentum going.
Yep, it's me. I think I like this twitter thing. You guys are awesome. Thanks for all the love.

— Tiger Woods (@TigerWoods) November 17, 2010
Step 4: Poke fun at yourself.
Tiger suffered a few sex-scandal jokes on Jimmy Fallon's show in early 2011, while he was promoting his new video game. Showing you can take a joke always helps.
Step 5: Focus on what made you famous in the first place.
By 2012, Tiger started playing well enough to win. He won the Arnold Palmer Invitational in Mach 2012 and another in June. He was once again known for his golf game and not his sex life.
Step 6: Show you're a changed person.
Starting a new relationship could have come off as phony if done too soon after the scandal. But Tiger's new relationship with Lindsey Vonn came years after his divorce, and despite the somewhat cheesy Facebook announcement, they seem generally happy together. In the video below, Tiger discusses during a golf press conference his decision to go public with his relationship with the Olympic skier.
Step 7: Spend time with your family.
Lately Tiger has been seen spending quality time with his adorable children, Sam and Charlie, even getting new girlfriend Lindsey in on the fun when the four of them went water skiing this week. The softer, family-man side can definitely help a star's image, so long as it's authentic.
Step 8: Assert your A-list status.
With a new cocktail waitress coming out every hour to declare an affair with the golfer, Tiger seemed anything but high-brow in the midst of his sex scandal. But Tiger reminded everyone that he's arguably the best golfer of all time and thus a bona fide star when he walked the Met Gala red carpet earlier this month with girlfriend Lindsey. Tiger himself talked about the experience at the Met, saying, "It was certainly different. Lindsey wanted to try and grow her brand. She's come out with a new perfume and makeup line, so that was a big thing for her and I'm supporting it."
Step 9: Have a pretty harmless setback.
Speaking of the Met Gala, rumor had it that Tiger got drunk at an afterparty and embarrassed Lindsey. But in the scheme of his past tabloid exploits, that was pretty harmless.
Step 10: Win.
America loves a redemption story. Despite his flop at the Memorial Tournament, Tiger Woods's wins in 2013 have him back as the No. 1 ranked golfer in the world. Remember, celebrities: personal failure can always be overcome with professional success.