Tobey Maguire Got Married!!!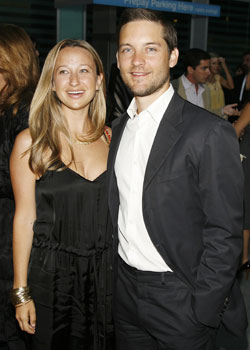 Tobey Maguire and his fiancée Jennifer Meyer got married on Hawaii's Big Island last night, according to In Touch Weekly. A small group of their close friends witnessed the intimate sunset ceremony. The couple got engaged when Jennifer was four months pregnant with their little Ruby and are just too precious all together these days.
Apparently Lukas Haas was there for the wedding, but not Tobey's BFF Leo as he was off filming on location. (UPDATE - People reports Leo was there. We didn't think he would miss his best bud's wedding but early reports said he was MIA. We're glad to know that wasn't the case). As for all their other famous friends -- well, they'll just have to throw the happy couple a big party when they get back from LA. In the meantime, it sounds like they've got the honeymoon conveniently right in front of them. Congrats to the happy family!