Tom Brady in Boston With Jack and Benjamin
Tom Brady Hits an Aww-some Dad Home Run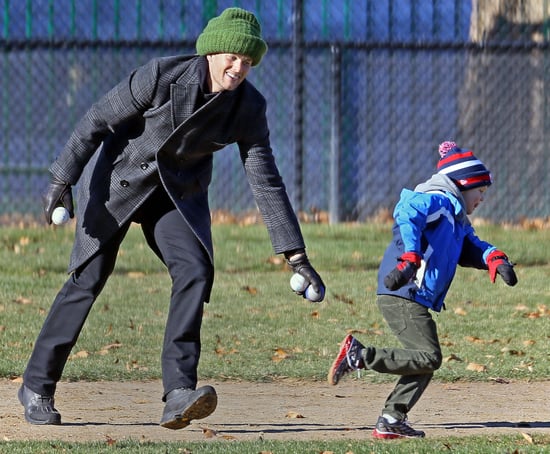 Tom Brady took his two sons, Jack and Benjamin, to a Boston park on Saturday for a boisterous game of baseball. Bundled up in a plaid peacoat, oversize green hat, and gloves, Tom chased after Jack with three baseballs in hand, sporting a massive grin. The family dog was also in tow and stayed close behind as Tom and Benjamin rode on a mini scooter together. Could this get more adorable? Things will take a serious turn on Sunday though, when Tom hits the field with the New England Patriots in their matchup against the Denver Broncos.
It appears life in the Brady family is nothing short of picturesque. Gisele Bündchen spent time with Jack and Benjamin before the boys-only outing, sharing a photo of the boys eating brunch at home in their pajamas. The family has enjoyed a fun-filled Fall, exploring the Big Apple in high style and exchanging sweet PDA on a playground in Boston. We still can't get over the cute family portraits they snapped during their beautiful beach vacation.
Keep reading for more photos from Tom's day out with his boys.