Tom Brady and Gisele Bundchen at Patriots Practice
Tom Brady Leaves Patriots Practice After a Knee Injury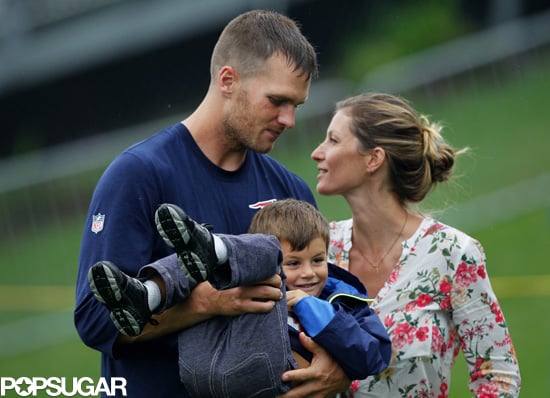 Tom Brady has suffered an injury to his left knee, multiple sources report. The injury happened earlier today during the New England Patriots practice in Foxborough, MA, and the quarterback promptly left the field after being hurt. A fan video, posted below, has surfaced on social media, showing Tom hitting the ground and holding his left knee — the same knee that he injured with an ACL tear during the 2008 football season.
The incident comes on the heels of a busy week for Tom, who got a visit from his wife, Gisele Bündchen, and son, Ben, during his training camp practice with the Patriots on Tuesday. He took home a win in his first preseason game against the Philadelphia Eagles on Friday, but it is likely that Tom won't be hitting the field for the team's next game against the Tampa Bay Buccaneers this coming Sunday.
Ahead of today's injury, Tom, who celebrated his 36th birthday earlier this month on Aug. 3, shared his optimism about the upcoming season during a stop on WEEI's Dennis and Callahan Show on Monday, saying: "The biggest difference is I feel better now than I used to feel. That's the encouraging part is that I've found ways that I can prepare my body and prepare myself so I don't go through that." Tom continued, "I don't buy into the fact that you just get older, and you have to feel crappy for the rest of your life, so I try to live my life and take what I've learned over the years and apply that to my every day living so that I can wake up in the morning and be excited about going to work."