Tom Casts Victoria as an Alien
The Beckhams are house hunting in LA and Victoria has big dreams to make it in Hollywood. Looks like her good friends Tom and Katie are going to help make it happen. Apparently Tom is making a new movie based on Scientology, and Posh is all set to play the alien bride. Here's more: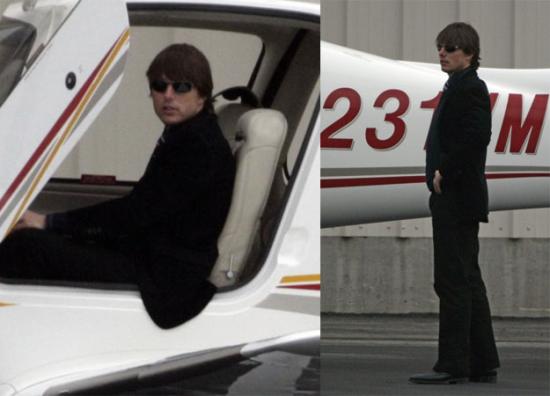 She will play the missus of an alien leader known as a thetan – which Scientologists claim is an immortal spiritual being present in all humans.

A source said: "Victoria is really hoping to make a go of it in Hollywood.

"This could be the perfect start for her, with good pal Tom Cruise in charge."

Cruise, 44, will make the film with his own money after all the Hollywood studios rejected the project – and it's a far cry from Posh's first role in Spiceworld.

But the 1997 Spice Girls movie is a Cruise favourite and the megastar believes she has "comic genius". His wife Katie Holmes, 28 today, is helping Posh make it in Tinseltown by inviting her to lavish industry parties.
This story sounds a bit goofy but we couldn't resist posting it. Victoria playing an alien - it's just too good of a set up for jokes...and Tom doing a Scientology movie - say it isn't so. In the meantime, for more of pretty Tom taking time to check out a new plane over the weekend just read more