Tom Cruise and Katie Holmes Divorce
Tom Cruise and Katie Holmes Divorcing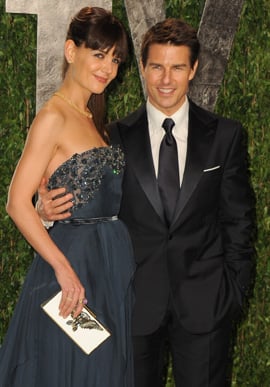 Update 2: Tom is saddened by the divorce. A statement from Tom's rep said, "Kate has filed for divorce and Tom is deeply saddened and is concentrating on his three children. Please allow them their privacy."
Update: Katie has filed for sole custody of Suri when she filed divorce papers yesterday, prompting some to speculate that Tom is surprised by her move.
Tom Cruise and Katie Holmes are divorcing, People is reporting. The couple have been married for over five years, having tied the knot in a lavish Italian ceremony back in 2006. Her lawyer seemed to confirm the news in a statement. He said, "This is a personal and private matter for Katie and her family. Katie's primary concern remains, as it always has been, her daughter's best interest."
The split comes just days before Tom's 50th birthday next Tuesday, July 3. They have been apart in recent weeks, with Tom shooting Oblivion in Iceland and Katie spending time in China and NYC. This was Tom's third marriage, and Katie's first.