Tom Cruise and Katie Holmes For T Magazine
Tom and Katie Get Honorable Mentions From T Magazine
Tom Cruise and Katie Holmes went old Hollywood style for their black and white photo shoots featured in the Holiday/Reinvention Issue of T Magazine. In their respective interviews, Tom and Katie both talk about their careers, fame, and family life. You can check out video interviews with both, but here are highlights: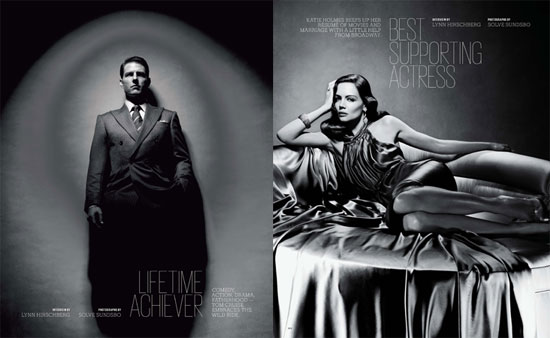 Katie on Broadway: "I've been looking for years to do a play. The first time I came to New York, I was with my mom. We stayed at the Marriott Marquis, and we went to Sardi's, which was amazing. But best of all, we went to see Annie I could get up on a table now and sing 'The sun will come out tomorrow.' Now I take Suri to the theater. She's seen Hairspray twice — she waves hello to Tracy Turnblad and says 'Hi, Tracy.' She thinks she knows her."
Katie on her public image: "There's a misperception about me that I just became this wallflower, this woman who doesn't have any control of her life. That I just became a wife. And that's pretty wrong. From the very beginning, I've made choices in my life that have been very strong. When I met Tom, I was completely in love and, yes, I admired him growing up — he's Tom Cruise! And, yes, I followed his movies and maybe had his photo up on my wall. I thought, How does he do what he does? And when I met him, he was so warm and I thought, Wow! You can be a superstar and a human being. He made me feel so amazing."
Tom on his first trip to LA:: "I met Sean Penn while we were shooting Taps, and afterward he said, 'You have to come to L.A.' So I flew out, and Penn picked me up at the airport and drove me around L.A. We went to Nicholson's house. And Brando's. And Dustin Hoffman's. We didn't go in, but we thought, 'What do you think those guys are doing right now?'"
To see what else Tom and Katie had to say about Suri and the industry, just read more.
Katie on designing her own clothes: "I really enjoy projects, whether it be a movie or a play or designing clothes or a party. I asked Suri what she wanted to be for Halloween, and she said she wanted to be Halloween. So I found orange fabric with all these bugs on it and I designed a dress for her and a matching dress for me. We're sort of pumpkins."
Tom on playing seemingly perfect characters: "Perfect? Me? Don't I wish! [Laughs] look for drama and comedy in life. We all feel our problems are the biggest things. Growing up, going to movies was such a relief and release for me. I could escape my life at the movies. I remember seeing Swiss Family Robinson as a kid, and I lived vicariously through those characters. They were a family, and they were on this ship. They were on a journey, and I always wanted to travel."
Tom on Katie's childhood crush on him: "As a young girl, Kate said she dreamed of marrying me. And I said I wouldn't want to disappoint her. I knew I wanted to marry Kate when I met her. After our very first date, I was sure. So I bought the ring shortly after that first date. At one point, I thought she was going to ask me to marry her first and I put her off by changing the subject. I wanted to ask her."
It's intriguing to read Tom and Katie side of Hollywood and take on each other. Clearly they both plan on staying in the spotlight and maybe one day the Cruises will even share the screen together.