Tom Cruise Playboy Interview
Tom Cruise on His Beautiful, Creative Wife and Growing Up Without His Dad Around
Tom Cruise chatted with Playboy about his new movie Rock of Ages, but the conversation between the actor and interviewer Michael Fleming got quite personal. No stranger to promoting movies, Tom is happy to discuss his career and ambitions, but rarely talks about his childhood. However, in Playboy, Tom gave a great deal of insight about growing up with his mom and sisters, but not his dad. Tom also spoke about the tough career time he went through in 2005 after PR-unwise interviews on the Today show and Oprah. Tom additionally had nothing but kind words to say about his wife Katie Holmes and their family. Here are highlights: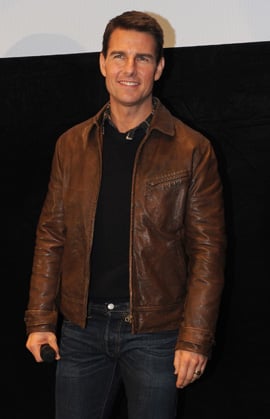 On loving Katie: "She is an extraordinary person, and if you spent five minutes with her, you'd see it. Everything she does, she does with this beautiful creativity. When she becomes interested in something, she doesn't talk about it, she does it. One week I said to her, 'You've been up in the middle of the night. Is everything okay?' She smiled and then threw this thing on my desk and said, 'I wrote this script.' She wanted to try it, and she did. She wanted to try designing clothes, and now her line is wonderful and, to me, an example of how she just creates beautiful things in her life. She has a voice and warmth as an artist, as a mother. She's funny and charming, and when she walks into the room, I just feel better. I'm a romantic. I like doing things like creating romantic dinners, and she enjoys that. I don't know what to say — I'm just happy, and I have been since the moment I met her. What we have is very special."
On growing up without his dad around: "It wasn't a big conflict when I was growing up; that's just the way it was. I don't look back and feel bad. I know some people do, but it's not a burden I carry through life. It's more like, OK, this happened. That's how he behaved, that's how he did things. He tried, but it just was who he was. Traveling has given me a broader understanding of people, and I've always been interested in the similarities we have and why people make certain choices in life. I got an introduction to that as a young child, but it never felt like a weight I carried on my shoulders."
On how he looks so young: "I honestly have no idea. [laughs] I work. I'm always with family. I train, go without sleep. I just go hard."
To read more about what Tom says on having the same values as when he was a child, not caring about bad press, and his tough times in 2005, just read more.
On keeping the same values his entire life: "I've always had the same values. Family for me has always been important. When I shoot, everybody comes. When Kate's shooting, I'm there with her and the kids. We're always together. I'm always around my mother and sisters. I always wanted to be a father, a husband. And I've always had a work ethic. I've had paying jobs since I was about eight years old — cutting grass, raking leaves, paper routes, selling Easter cards and Christmas cards."
On not caring about what people write: "This is something I learned growing up, moving and always being the new kid. There's what people say, and there's reality, and you can't worry about stuff like that. Do you wish they wouldn't say certain things? Yeah, you wish. Does refuting things help? Not really. There comes a point when you just have to go, You know what? Here's how I've lived my life: I've never been late to set. I make films I believe in. I feel privileged to be able to do what I love. You just have to keep going and remember that. The other stuff? I hear it, I read it, I get it. But life is not a matter of trying to prove anything to anybody."
On bouncing back after his Matt Lauer and Oprah gaffes in 2005: "It was important to me to take responsibility, take a hard look and decide where I go from here. That time was interesting. It was that moment when the Internet had really spun out. It was a learning experience for all of us, how these things go. All you can do is learn and say, 'This is the way it's going to go from now on. Here is the line.'"