Tom Cruise Talks About His Family on The Late Show, Ryan Seacrest
Tom Goes From Dave to Ryan to Talk About Valkyrie
Tom Cruise made time to sign autographs before heading to The Late Show in NYC last night as he continued to promote Valkyrie after its premiere on Monday night. Dave and Tom took a trip down memory lane, looking at photos of Tom as a high school wrestler, friend of Paul Newman, and of course, a family man. Tom kept talking about his wife and kids this morning on Ryan Seacrest's radio show, where he opened up about Katie's birthday, their holiday plans, and Suri. Here's more: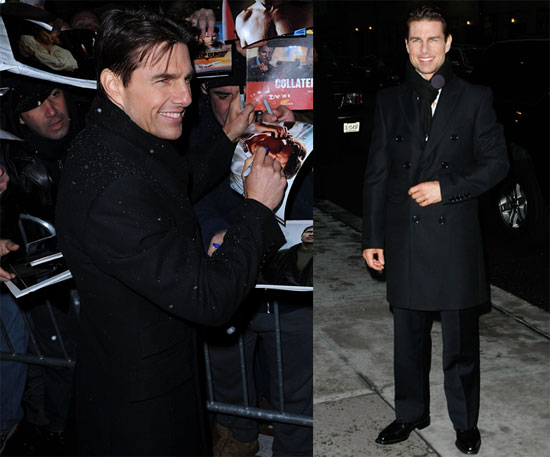 On celebrating Katie's birthday tomorrow: "She's going to be onstage, she's doing All My Sons on Broadway. I've got some things planned tonight, I've been kind of surprising her throughout the week with things . . . I like romance, so you've got to think about these things, you've got to know the right thing and pay attention throughout the year. Know your lady — the flowers, what kind she likes."
On their Christmas plans: "We're still kind of deciding, because Kate's here on Broadway and they've only got two days off. I mean, they're doing two shows a day for three days in a row or something crazy like that, so we're still working it. I'm going to finish this publicity. The main thing we know we're going to do is just nice family time and stuff. Kate always sets everything up like that, she loves it. She kind of designs out life, so there's the dinners and cooking and the whole thing."
On Suri seeing him in an eye patch for Valkyrie: "The kids always, all of them, they grew up on a movie set, so they'll sit on my lap while I'm getting made up — I like to have them around while I'm creating a character so that they get used to it. But Suri would come up and pull the eye patch off when she was sitting on my lap, she'd come up and take it off but then eventually she got used to it."
He's been all over lately to chat about his movie, and there's sure to be lots more of Tom before its release on Christmas day.
To see videos of Tom's lengthy Letterman appearance, including the Top 10 Craziest Things People Say About Tom on the Internet, just read more