Tom and Gisele to Further Expand Brady Bunch?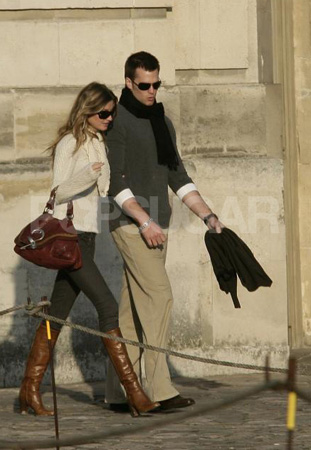 Well, Tom Brady might just be having the weirdest month ever. While off gallivanting around Europe with his new supermodel girlfriend, Gisele, the world learned that his ex is pregnant with his child. His people scrambled to make sure we all know that he is EXCITED (not freaked out) about the impending baby, but now rumor has it that they may have another unexpected announcement to hastily figure out. Now, to be fair, the only source on this is a Brazilian website that we crudely translated online, but rumor has it that Gisele is pregnant, too. Whaaa? Crazy.
Well, perhaps this accounts for Life & Style's story that she brought the QB home to Brazil to meet the folks after only a few months of dating (or perhaps Tom's visit is what sparked the pregnancy rumors). Hey, she did recently say she wants kids, after all. Meanwhile, anyone else think Tom Brady should be sent back to middle school sex ed class?