Tom and Katie Countdown Continues
Katie and Tom's car crash didn't stop them from glowing at their rehearsal dinner at Nino, and their guests all looked absolutely fabulous as well. No wonder J Lo was named Harper's best dressed woman of the year. She is looking stunning. It reminds us of the Oscar dress she wore while with Ben but even better. Another best dressed of the evening is adorable Connor. Tom and Nicole's son is turning into quite the man. In the latest news as we countdown to the wedding, it has finally been confirmed that Katie and Tom will in fact get married in a castle tomorrow, and the fee to use the castle has been waived. Here's more: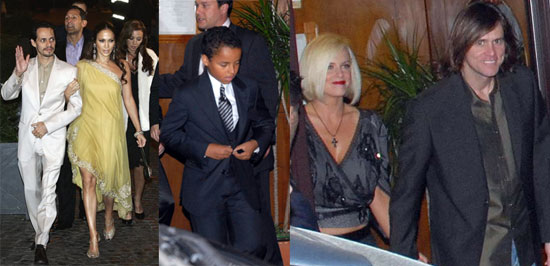 Tom Cruise and Katie Holmes will wed Saturday at Odescalchi Castle, a 15th-century fortress in the lakeside Italian city Bracciano, Access Hollywood's Billy Bush announced Friday on Today. Odescalchi had long been the anticipated wedding site, and Italian media have reported that the ceremony will be held in the castle's Hall of the Caesars.

The $50,000 fee to use the facility has been waived, because Bracciano mayor Patrizia Riccioni wants to thank the couple for all the attention they've brought her town, Bush reported.

"I want to thank Tom Cruise and Katie Holmes for choosing this venue for such an important event," Riccioni said. She added that she'd given them a small silver sculpture of the castle as a gift, with a card reading, "A sincere note in sign of gratitude from the city of Bracciano, for having chosen it as the place where to crown your dream of love." Riccioni also said she'd like to grant the Cruises honorary citizenship "because they have brought so much to our little village."
We cannot wait to see pics from the big wedding! Until then, more of the fabulous rehearsal dinner so read more