Tom and Katie At NY Times Golden Globes Party at Chateau Marmont 2010-01-16 12:43:56
Tom and Katie Join Critics' Choices and More For Golden Globes Preparty
Tom Cruise and Katie Holmes got in on the award season madness last night at the NY Times style magazine's Golden Globes party at the Chateau Marmont. Rachel Zoe, back from her bikini vacation, was among the party guests and posed with Sofia Coppola. The crowd from the Critics' Choice Awards joined once the show was over — Diane Kruger still looked flawless in Donna Karan, while adorable Anna Kendrick chatted it up with Adam Lambert.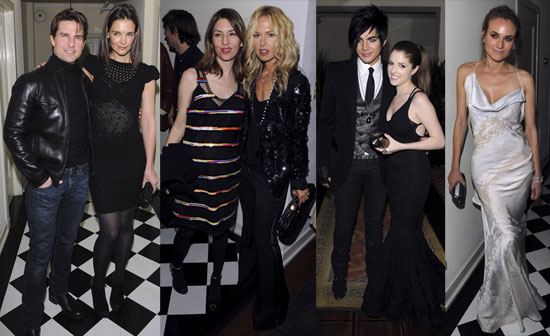 Tom caught up with his old friend Ben Stiller, and Ashley Olsen cuddled up to her boy Justin Bartha, whose The Hangover won best comedy at the night's show. Elsewhere at the party, Katie's ex-fiance Chris Klein mingled among other young handsome men Chace Crawford and Chris Pine. The event was a precursor to tomorrow's Globes, and you still have time to fill out your ballot for a chance to win big! For all the latest this busy weekend, follow us on Twitter.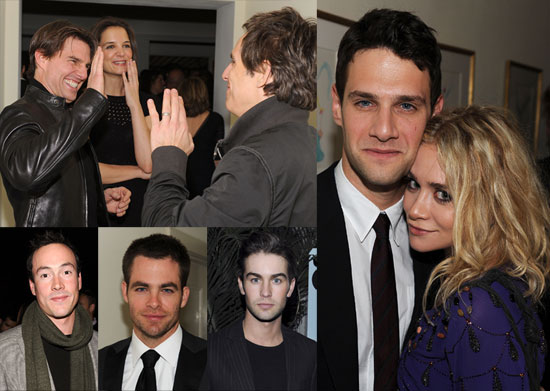 To see lots more from the party including Elizabeth Banks, Emmanuelle Chriqui, Jason Segel, Woody Harrelson, and others, just read more.
Images include: Adam Lambert, Anna Kendrick, Carla Gugino, Chace Crawford, Chloe Sevigny, Diane Kruger, Eli Roth, Elizabeth Banks, Emmanuelle Chriqui, Jena Malone, John Leguizamo, Julianne Moore, Katie Holmes, Marisa Tomei, Molly Sims, Oliver Stone, Quentin Tarantino, Rachel Zoe, Sofia Coppola, Thomas Jane, Tom Cruise, Tom Ford, Zoe Saldana, Matthew Morrison, Shirley MacLaine, Teri Hatcher, Chris Klein, Jane Fonda, Steve Dorff, Ben Stiller, Will Arnett, Jason Segel, Woody Harrelson, Carey Mulligan, BJ Novak, Justin Bartha, Ashley Olsen, Chris Pine