Tony Takes His Denial to the Next Level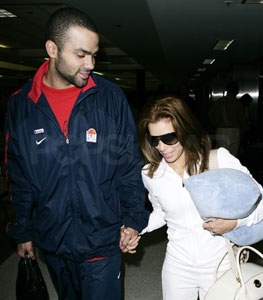 Eva Longoria and Tony Parker strolled through the airport hand-in-hand the other day, proudly showing that they're not going to let a few nasty rumors get in the way of a romantic getaway. The couple has already denied the allegations, but now Tony is getting his lawyer involved. The basketball player's attorney issued a statement saying that Tony has "never even laid eyes on" Alexandra Paressant, the model who claims to have had an affair with him.
This isn't the first time a famous athlete has had to deny affair rumors. Sometimes they are true, but many times they are completely made up. What do you think?