Tori Likes Being Pregnant
A very pregnant Tori stopped by the Television Critic's Press Tour this week with husband Dean to promote their new reality show, Tori & Dean: Inn Love. The couple are expecting a boy at the end of March. They don't have a first name yet but have decided his middle name will be Aaron - in honor of Tori's dad. This is kind of surprising considering Aaron kind of skimped on Tori's inheritance. But obviously Tori's heart is in the right place. She's staying positive and is just so happy to be having a baby it seems like nothing else is going to get her down. Here's more: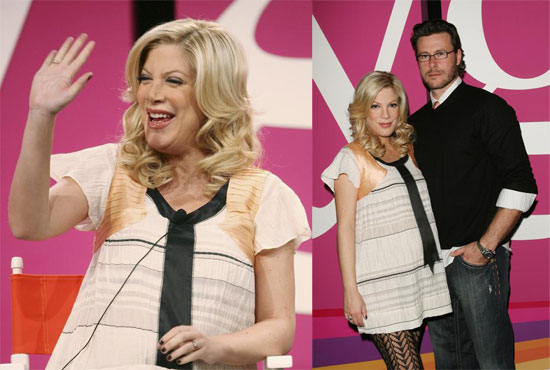 "Every night when I walk by my mirror I just stare at my belly and I'm so impressed by it," the former Beverly Hills 90210 and So noTORIous star, 33, told TV critics at their annual conference in Pasadena, Calif., on Wednesday. "You always wonder what you'll look like when you're pregnant and it looks good. I like being pregnant."

Gushed McDermott: "She looks so sexy naked."
Um sorry but -ew. We really don't need that visual! Let's hope that's not the kind of stuff we're going to have to hear about on their new show! For more pics just read more