Tori Spelling Engaged Again!
But wait - aren't they already married? Yes, but apparently romantic Dean wanted to propose to his pregnant wife on the anniversary of their first engagement. How sweet is that. Sounds like this couple is really happy or else they just needed more material for their upcoming reality show. Either way, here's more from People: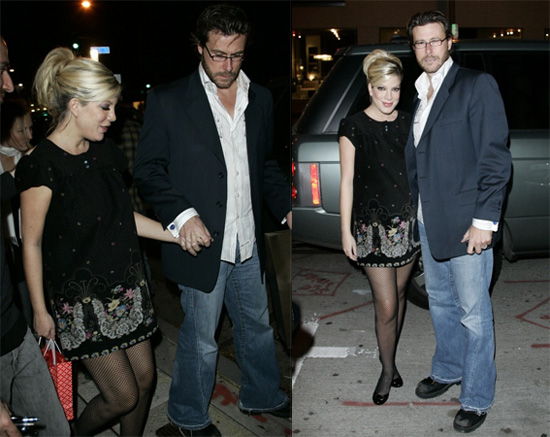 "We sat on a bench overlooking the lake and I gave Tori her last Christmas present" – an antique platinum ring with an Edwardian oval-shaped sapphire from Neil Lane. "I'd wrapped the ring in a much bigger box, and as soon as she opened the ring box I asked her to marry me again. It was very romantic and magical."

Spelling adds that as soon as McDermott proposed, "I immediately started crying and said 'Yes! Again and again and again!' What made it so special was the notion that a year ago when he proposed, the thought of having a baby together was just in our hearts, and now our baby boy that we created from our love is nestled in my belly."
Check out more pics of the couple at her DVD signing last week from her "So Notorious." Tori actually looks adorable and you can barely see that belly in her dress. For more just read more