Tori Spelling Finally Lands a Cover
No wonder her family hates her. Tori is using Daddy's death to get on the cover of US Weekly. Apparently she is devastated she found out about Aaron's passing via BlackBerry while she was in Toronto. However, apparently his horrible stroke was not enough to bring her home to him in the first place. US Weekly reports: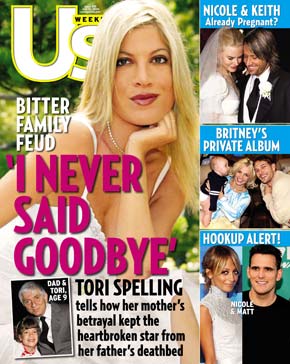 On the night of June 23, Tori Spelling sat in Betty's restaurant in Toronto, Canada, when she received the heartbreaking news via BlackBerry that her father, legendary producer, Aaron, had passed away: "A friend of mine had seen a TV report and e-mailed me, 'I'm so sorry. I just heard your father died.' And I was just in total shock," Tori tells Us. Her sorrow quickly turned to anger.

"My first thought was, I can't believe my mom didn't call me!" Actually, it wasn't a total surprise since Tori, 33, and her mom, Candy have been in a longstanding feud. Because of the estrangement, the self-proclaimed daddy's girl had only seen her 83-year-old father – whose health had been failing for months – on one occasion since last September. And that tearful visit, at the urging of her brother, Randy, 27 (also an actor), was on June 11, just two weeks before Aaron Spelling died.
To read more about Tori and what she did in Toronto that was so important, read more
TORI Spelling told People she had a "reconciliation" with her TV mogul-dad Aaron just before the stroke that led to his death. But Canadian gossip Shinan Govani says the claim seems odd because the blond heiress-actress had been in Toronto all week "doing nonstop media for her reality show, picking more fights with [her husband's ex-wife] Mary Jo Eustace, and was spied here until at least Friday afternoon." Aaron died Friday night. Among the places Tori was seen was at a local Starbucks, a popular pub called Betty's, and the Four Seasons Hotel.